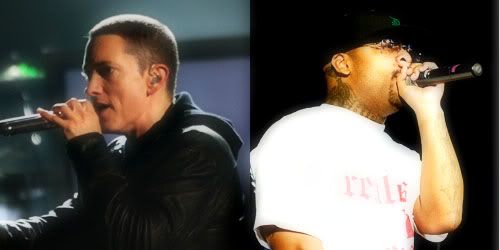 Eminem
&
Royce da 5' 9"
are back at it again on a new track called "
Living Proof
." This song reminds me of how they used to collaborate back in the days: keepin it real and not giving a f*** about what they say but at the same time dishing out the rawest lyrics. Check it out (may not be suitable for everyone):
Eminem - Living Proof featuring Royce da 5' 9"
-
Alt Audio Link
I'm happy to see them working together again; just like when they both were beginning to emerge onto the hip-hop scene. At a point in time, Eminem went on a different path with his crew,
D12
, and became
THE
top rapper of our generation with the help of
Dr. Dre
.
Royce, on the other hand, did his solo thing for a while and sort of just stayed in the underground scene. Last year, he got together with other lyrically-talented rappers and formed the group called
Slaughterhouse
, which helped him reconnect with Eminem again. I'm not sure if Eminem reached an agreement to sign the group yet, but I'm pretty sure it's going to be a done deal soon.
I can't wait to hear more from these two. The bad & the evil.