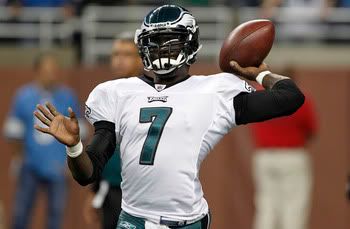 Michael Vick
.. do I need to say more? He's been on fire since he started for the Philadelphia Eagles after Kevin Kobb went down, and maaaaaan he just torched the Jacksonville Jaguars yesterday with his quick speed, elusiveness around the pocket, and a cannon for an arm.
Here are all of his sick highlights from yesterday's game in case you missed it:
-
Props to
Vladtv.com
Final Score: PHI - 28 : JAX - 3
- Michael Vick's stats: 291 yds, 3 TDs, & 1 Rushing TD
Looking forward to next week's game as they take on Donovan McNabb and the Washington Redskins. That's going to be a very interesting game as it will be in Philly.