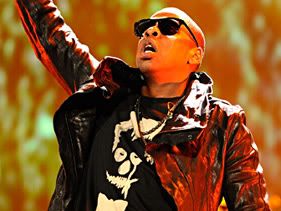 9/13-9/14 (2010):
This date marked the first-ever concert @ the new Yankee Stadium, but sadly the end of the
"
Home & Home"
tour featuring
Jay-Z
&
Eminem
. After reading a lot of reviews about the show, it sounded like it was
EPIC
! Not only were they rockin it in the Bronx (considered the birthplace of rap to some), but there were also guest appearances from
Young Jeezy
,
Kanye West
,
Beyonc
é, Drake, Nicki Minaj, Dr. Dre, 50 Cent, D12, B.o.B.,
and some othe
rs. I don't think we'll ever see another concert with all those top artists in the same building ever again, so I envy all of you who got to experience that memorable concert.
For those of us who didn't get to see it live, I found some videos from the show:
Jay-Z performs "Renegade" with Eminem and "Light Up" with Drake
Eminem performs with Dr. Dre, 50 Cent, and B.o.B.
Jay-Z brings out Kanye West & Nicki Minaj for "Power" Remix and "Monster"
EPIC...