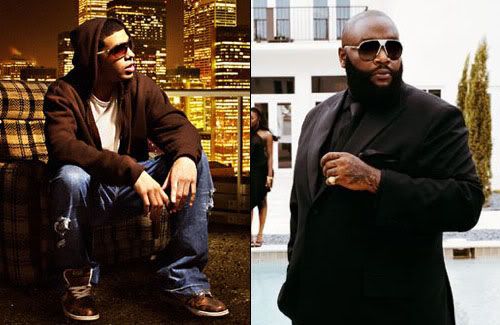 As you may know by now, I'm becoming a big
Drake
(left) fan and starting to dig more n more music from
Rick Ross
(right) as well.
Ever since I heard this song called "
Aston Martin Music"
, I've been hoping to see a music video as it's such a sweet song. This was one of the top songs I kept repeating in my playlist when I first heard it on Rick Ross's album,
Teflon Don
, which is already out in stores now. This song also features
Chrisette Michele
on the vocals who helps make the chorus so catchy. Of course, once you throw Drake in the mix then it's a sign that everybody can enjoy this song.
Rick Ross - Aston Martin Music featuring Chrisette Michele & Drake
Saw it here first:
http://concreteloop.com/
** FYI, if you've been noticing that some of my posts are gone well it's because I'm being forced to remove them. I guess other people can share/stream music, but it can't be posted on this type of blog site for some reason. I'm being regulated on, which is hella lame...
Regardless, I'll still continue to share my music interests and provide you with streams so you can listen/view what I'm listening to, but just know that it might disappear at anytime. On that note, check daily! ;)