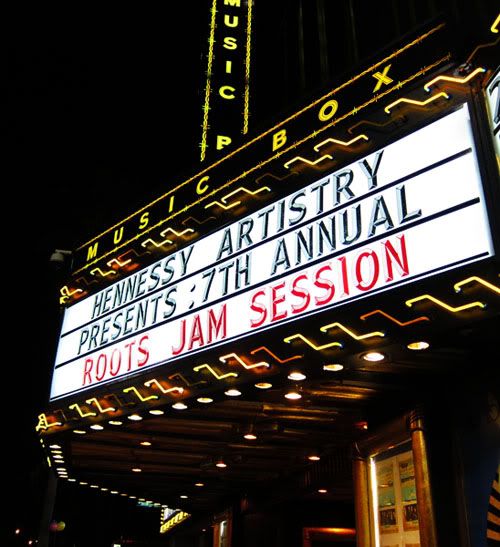 2-12-11 (Hollywood, CA):
There were a lot of fun events going on in LA due to the Grammy's that happened this past weekend, and I just so happened to check out one of them:
The Roots Jam Session
presented by
Hennessy Artistry
.
This was such a chill event mixed with a plethora of musical performances at a very classy venue (
The Music Box
). So many different artists performed and I couldn't remember all their names, but luckily my homie gave me the 411:
Jimmy Fallon (host), Bobby McFerrin, Sara Bareilles, Ryan Leslie, Ne-Yo, Chuck Brown, Estelle, Betty Wright, Chaka Khan, Lalah Hathaway, Melanie Fiona, Taj Mahal, Booker T, Too $hort , Marsha Ambrosius, Donnis, Young Chris, Asher Roth, Blu, Anthony Hamilton, Raheem Devaughn, Trombone Shorty, Craig Robinson X THE ROOTS!!
I definitely had to take advantage of all the
Hennessy
I could, but stopped at one point because I was getting too buzzed and was losing focus on my goals: checking out the art displays, listening to good music, watching the live performances, and taking awesome pictures with my new
Cannon S95
=)
Props to my homie
Rex4000
for hookin me up with this one. Also, I wanna give a shout-out to his other blog site about the LA lifestyle & more right here:
--> http://uncvr.wordpress.com/
(Check it out!)
Last but not least, here are some pictures I took of the event:
More pictures in my album right here:
I had such an awesome time from beginning to end.. Mad props to The Roots & Hennessy for setting this up.