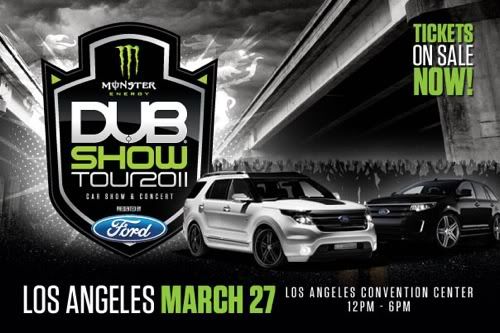 - Tickets are
not
on sale FYI...
3-27-11 (Los Angeles, CA):
This past Sunday me and my friend went to check out the
Dub Car Show
not for the exotic cars, beautiful models, sik custom rides, & more gorgeous models, but for the LIVE PERFORMANCES!!
It was a pretty awesome line-up with a long list of rappers including
DJ Quik
,
Nipsey Hussle
,
Waka Flocka Flame
,
Layzie Bone
, and others, but I was really just looking forward to seeing
The Game
&
Lupe Fiasco!!
I gotta say each performance was a bit short & the audio/set-up wasn't that great, but being that I'm a big music enthusiast I still enjoyed seeing my favorite artists up there. Here are some videos I took of the main performances:
- The GAAAAME! G-UNOT!
- Waka Flocka started going into the crowd cuz he's one hoOod @$$ ngga! Not sure what he's rappin tho..
- Two of my favorite classics by Lupe Fiasco: "
Hip-Hop Saved My Life
" & "
Kick Push
" !!
I got a few more videos of the live performances by The Game & Lupe Fiasco on my Youtube Channel right here:
DaysofJ28
chekkit! =D
One last thing, I just gotta give a shout-out to my homie
Rex4000
for hookin me up to this event. If it wasn't free then I probably wouldn't have came, so mad props yo!
Check out his blog and the LA Lifestyle blog he started:
Uncvr.