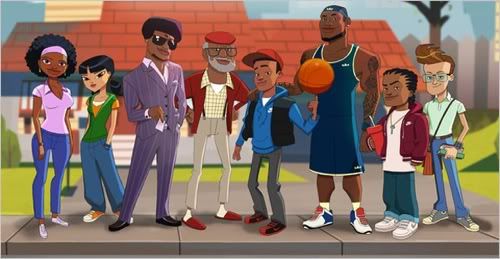 So, I just read that
LeBron James
is coming out with his own web-based animated series called "
The LeBrons
" (very original Lebron!) scheduled to launch sometime this spring. I'm too lazy to explain what this is all about, so you can read more about it
here
.
Personally, I think he should have premiered this while he was a Cleveland Cavalier when everybody in the world was embracing him even though he hadn't won a championship yet. Since he chose the EZ route and left to the Miami Heat, a lot of haters have emerged and I can see a lot of people not giving a fcuk about this & clowning LeBron even more.
I do like LeBron James as an athlete and think he's an awesome NBA player, but I just think the timing of this is all wrong. It's too soon to try and convert LeBron-haters into fans again, but I guess kids don't know any better so this may actually be a smart move by LeBron (getting to the kids while they're young so they grow up to remember LeBron as a Miami Heat and not a quitter with the Cav's).
In case you still care, here's a quick video of LeBron promoting his new animated series:
LeBron, stick to the one thing you're great at homie.. basketball.
Saw it here first:
Hypebeast.com