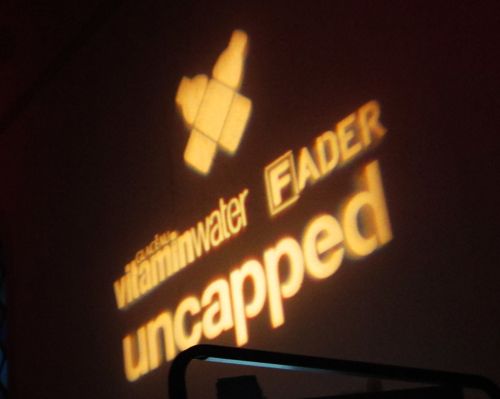 - Event Date: June 7th
Big shout out to
MissInfo
and my homie at
Uncvr
for providing the RSVP hook up and raising my attention to this awesome surprise show held at the American Legion Hall in Hollywood, CA.
While the performing acts were not announced until the live event, the mystery of not knowing made this "
Uncapped
" performance hosted by
Fader
and
Vitamin Water
that much more exciting to check out. Before the event, I thought I had an idea of who was coming but was completely wrong as things came to when I got to the location. The surprise performers included an
Zola Jesus
,
The Dream
, and
Rick Ross
with
special appearances by
Omarion
&
French Montana.
More of my ranting, pictures, and a video of Rick Ross & French Montana's performance after the jump...
Overall, this was a really cool event as the historic Veteran's Memorial hall had a nice setting, the crowd was full of music-minded and stylish folks, free beers & Vitamin Water (gotta love that!), and each performance was up-close & personal without being so packed with people. Being consumed with the music energy flooding the hallways and concert hall made me feel like I was in the 'right' place; a scene where I belonged where nobody was judging -- everybody just enjoying the music and letting it take over the night.
This
was the first kick-off to many performances that will be held throughout the summertime. Stay tuned for the upcoming locations of the next surprise performances right
here
. The next stop is Chi-town so get ready windy city as I'm sure you'll be blown away as much as we were over here in LA.
Here's a video of the Rick Ross & French Montana Performance ("
Stay Schemin
" & "
Shot Caller
") and some pictures I took:
----------------------------------------------------------------------------------------------------
---------------------------------------------------------------------------------------------------
#Fader #VitaminWater #Uncapped