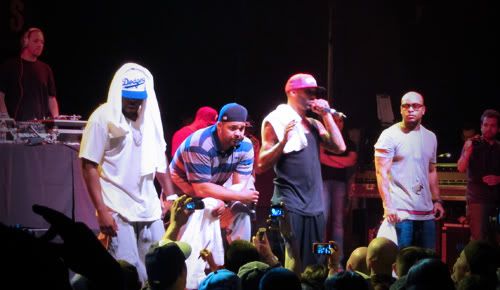 5/31/11 - Hollywood, CA
: This past Tuesday, I went to go check out my favorite & THE most lyrically-talented hip-hop group called
SLAUGHTERHOUSE
!! The show was
#EPIC
Crooked I
,
Joell Ortiz
,
Joe Budden
, and
Royce da 5' 9"
each have their own unique rap style when they spit on the mic, and whenever they get in the zone they can spit some real crazy/raw sh#t. Their music is definitely not for everybody, but if you are truly a hip-hop head then you'll appreciate their music for what it's for & how they present it as an artist; not necessarily by the literal content of what they rap about.
Besides Slaughterhouse, there is
no
other real hip-hop group out there like them these days,
period.
Here are some videos I took at the show:
Royce da 5' 9" - Fast Lane (ft. Eminem - not shown)
Joe Budden - Sober Up ft. Crooked I
Slaughterhouse - The One
#HipHopatitsFinest
Props to my homie
J.Li
for hooking me up & coming with me to the show.
I got more videos of other music stuff on my Youtube Channel right here:
DaysofJ28
Chekkit!