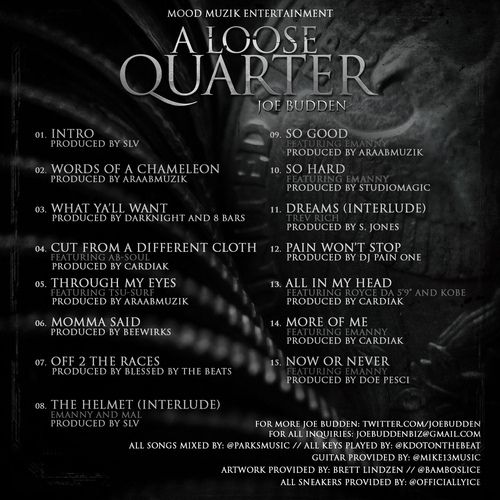 As soon as I heard the first few tracks on
Joe Budden
's new mixtape "
A Loose Quarter
", I was hoooked. The production on each song is pretty much to the T and has so many amazing melodies & sounds. I wouldn't be surprised if he was at the next
Coachella 2013;
Shoot,
I would be shocked if he wasn't!
Download the mixtape here:
datpiff.com
#ALooseQuarter
Some of my fav tracks from the mixtape after the jump...
Joe Budden - Words of a Chameleon (prod. by AraabMuzik)
Joe Budden - All in my Head ft. Royce Da 5' 9" and Kobe (Prod. by Cardiak)
Joe Budden - Now or Never ft. Emanny (Prod. by Don Pesci)
Joe Budden - So Hard ft. Emanny (Prod. by Studiomagic)
Definitely some 'festival music' type of beats right here.